As the air gets frostier and twinkling lights pop up in windows and along streets, our minds start to ponder what gifts to give to our closest friends and family. 
We might be biased here, but beauty products are perfect gifts for under the tree or as stocking stuffers.
Whether for a man or a woman, for your beauty-obsessed bestie, or for a cousin you see once a year, this little gift of self-care gives any recipient an opportunity to indulge in new scents, colors, or products. From hydrating lotions to sparkling eye palettes and punchy, bright lipsticks to nourishing serums — beauty products are often gifts that keep on giving. 
So, we wanted to know: Where in the US are beauty products the most trending Christmas gifts, and which beauty products are dominating online searches (and potentially the most coveted) in each state during the holiday season?
Using Google Trends data, and our expert beauty intel, we've uncovered which states are lusting for beauty products during the holiday season and which prefer painting festive nails, pampering their (likely winter-dry) skin with luscious face cream, and more.
Utah and Oregon are the most interested in "beauty gifts"

during that peak

gift-buying frenzy

from Black Friday until Christmas Eve

(in 2020). 

Make it "rein" perfume gift sets and face cream — both products tied for #1 most popular

. These two categories had 11 states apiece, meaning 22 of all 50 states are searching for one of these two beauty gifts comparatively more than others.

Jingle smells, jingle smells (but smells good!): #1 perfume gift sets

are uber-popular in Southern states like

Texas

,

Florida

, and

Georgia

, with interest stretching north up to Mid-Western states such as

Missouri

and

Illinois

. 

Treat yo' (moisturizing) elf:Also #1, the gift of face cream

is perfect for those living in drier states like

Colorado

,

Nevada

, and

New Mexico

, but also is a big hit in states such as

Alabama, Iowa, Massachusetts, Oregon, Washington, Connecticut, and Pennsylvania

. 

Nail polish comes in next with 10 states looking to decorate their nails

. Popularity stretches from flip-flop-wearing

Hawaiians

to bundled up

Alaskans

and also includes

Indiana

,

Montana

,

New Hampshire

,

North Carolina

,

North Dakota

,

Vermont

,

West Virginia

, and

Wyoming

.

The only state looking for lipstick is New York, but they're not singing "All I Want for Christmas" because they'd also like some face cream too. If you think that's indecisive, South Dakota can't choose between eyeshadow palettes, body lotion, or hair masks!
Holiday Beauty (Gifts), Inspired by Nature: Utah and Oregon
Well, we thought Oregon was for beer lovers and Utah for desert hiking, but according to our research, these are the top 2 states most interested in beauty gifts during the holiday season.
When it comes to Oregon and Utah we just can't stop picturing the natural landscapes overflowing with breathtaking beauty. Lush forests, lakes, and mountains adorn Oregon's landscape, while dramatic wide-open desert spaces and stacked, arching red rocks are stretched across Utah. 
Those living here must be inspired by the natural beauty, right? 

Starting with Utah in the number one spot, their affinity for beautifying may not be that shocking. For instance, consider the American cable television network Bravo's choice to host their latest season of the Real Housewives in Salt Lake City. In fact, beauty may be more important for state residents than we thought… Even the Church of Jesus Christ of Latter-day Saints provides members an excellent resource for grooming and skincare directly on their church website. However, perhaps the most inspiring and impressive Utah beauty story we've spotted comes from Gabe Adams-Wheatley, a TikTok famous makeup artist who creates stunning looks. It's nearly unbelievable, considering he does all his work without the use of arms or legs because he is literally without limbs.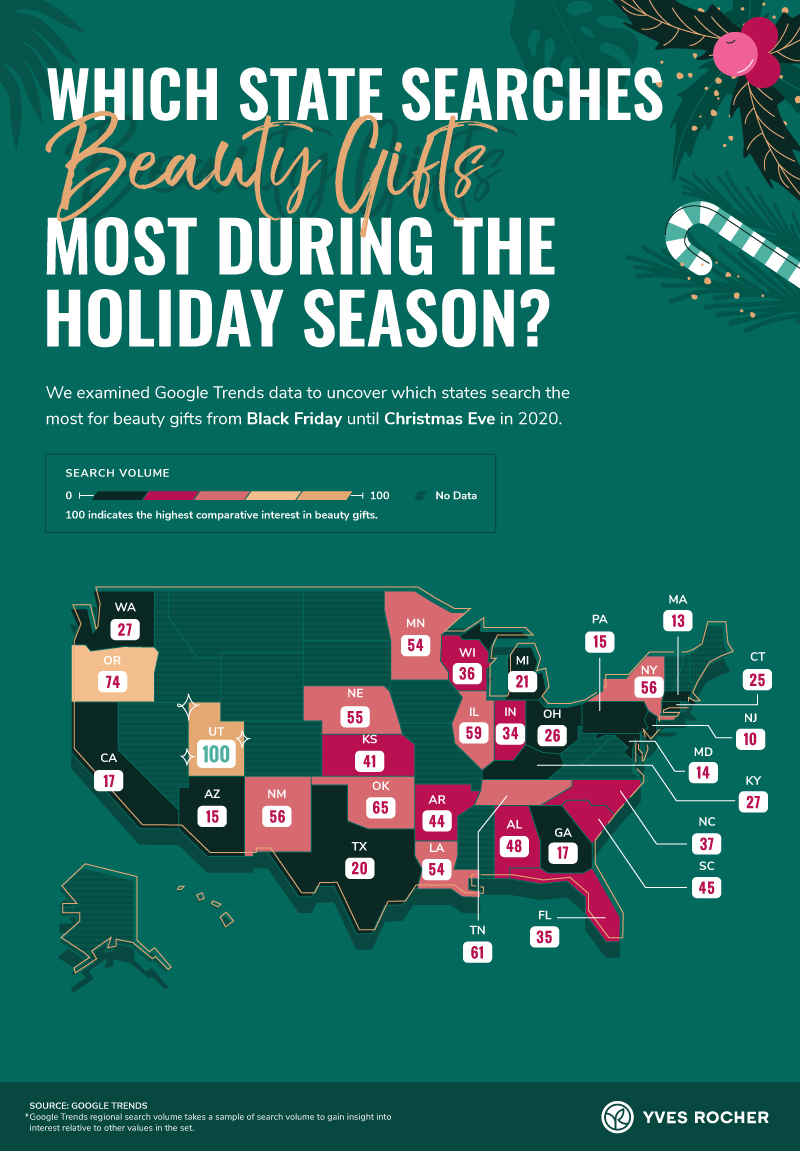 Now, for runner-up Oregon: the state may be well known for its Portlandia-style uber hipster vibes, but the more important thing to keep in mind is their priority for living natural and healthy lifestyles, both men and women. A healthy lifestyle includes more than eating healthy and getting regular exercise these days. It also means taking care of your personal wellness, which often includes skincare routines, beauty practices, and using quality products on your body. No wonder that Oregon locals are looking for beauty products to hand out as gifts around the holidays. 
And yes, Oregon men are likely interested in these beauty gifts too. Think about all the beard hair that needs some TLC! Plus, it seems to be that skincare is a big deal for men here too.    
Other states popping up with a sizable interest in beauty gifts include Oklahoma, Tennessee, Illinois, New Mexico, New York, Nebraska, Louisiana, and Minnesota. 
The most popular beauty products in each state
It can be hard to narrow down which gift to give to which person no matter how well you know them. So we're helping narrow down the list for you (at least when it comes to beauty Christmas gift ideas). We've chosen 10 of the most popular beauty products during the holiday season and uncovered which are searched comparatively more in each state than in any other states: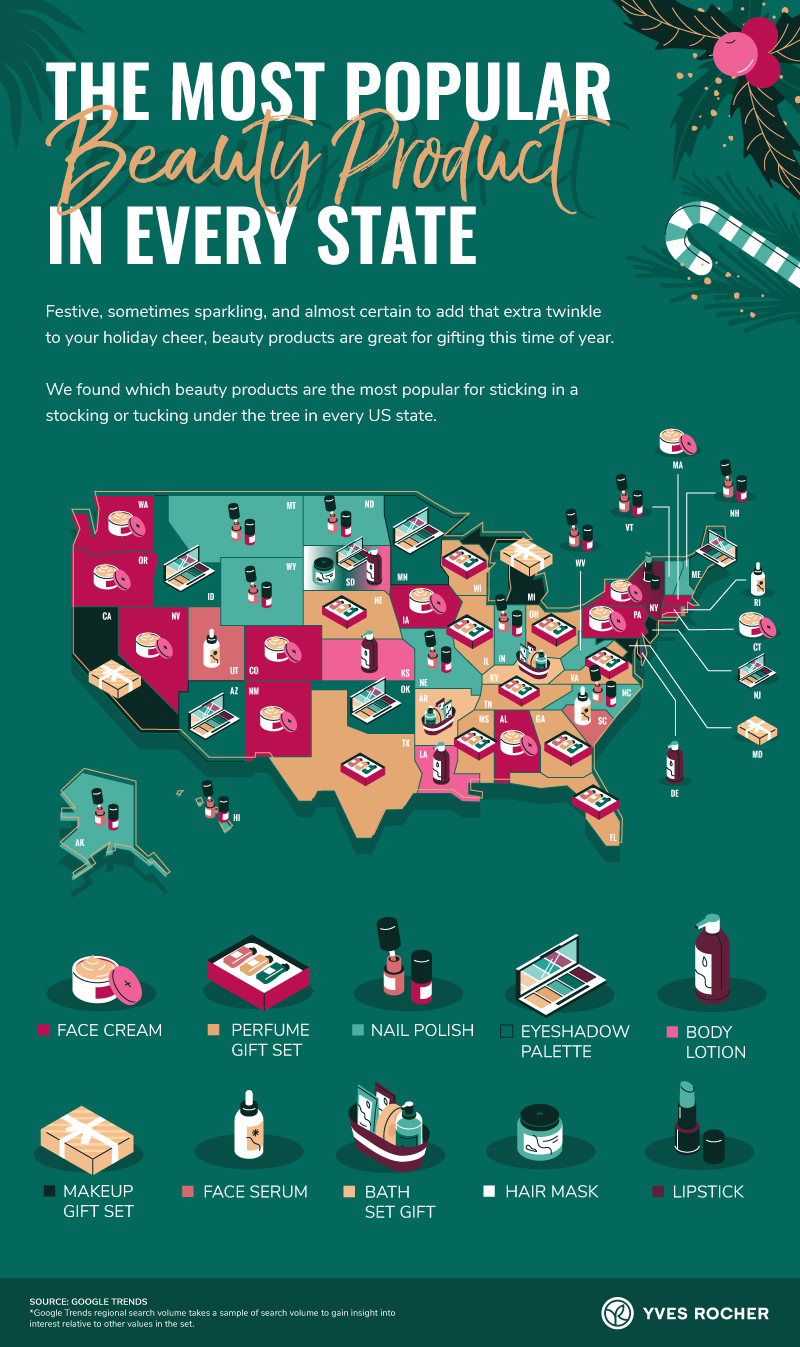 The top 3: Perfume, face cream, and nail polish
Perfume gift sets and face cream tied for #1, with each category earning a vote from a total of 11 states (11 for perfume, 11 for face cream). That means 22 of the 50 states are searching more than the others for one of these two beauty products. 
Perfume can be tricky to gift if you don't know precisely what scent to buy. However, a perfume gift set is an opportunity to test out multiple fragrances and discover which scents fit best whether it be woody and warm, bright and herbal, or fruity and floral. States looking to test this out include Florida, Georgia, Illinois, Mississippi, Missouri, Nebraska, Ohio, Tennessee, Texas, Virginia, and Wisconsin. 
As for face creams, they can range from fancy and luxe to practical and fundamental. The truth is that most people should be using them either way! But don't send the wrong message by gifting anti-wrinkle cream. It's like getting coal in your stocking! (Though, according to some sources, that gifting faux-pas may be one to overlook if it's for your best friend or mom.) A good rule of thumb for gifting face cream is to stick to those of the moisturizing varieties. This is why it comes as no surprise that notoriously dry states such as Colorado, Nevada, and New Mexico are fans of face creams. Of course, this skincare product is coveted across the nation, including in states such as Alabama, Iowa, Massachusetts, Oregon, Washington, Connecticut, New York, and Pennsylvania. 
What may be one of the easiest gifts to nail, nail polish comes in as the 3rd most popular, with 10 states searching particularly often for this search term. Even in states likely bundling up their hands in mittens, popularity is particularly high: Montana, North Dakota, Vermont, Wyoming, New Hampshire, West Virginia, Indiana, and even Alaska search for nail polish the most. Less cold, but definitely interested in polishing up their nails are North Carolina and Hawaii.
Lean your ear this way, these states have something more to say
It would be Rude(-olf) if we overlooked the states begging for some of the other beauty products on our list.
For instance, the makeup essential, lipstick, wasn't nearly as popular as we thought it would be. In any case, it seemed natural when New York showed up as wanting this powerful and festive lip product —  'tis the season to be cheery and bright! 
For those looking to sleigh the makeup game, you might be from one of the following states: California, Maryland, Michigan, and New Jersey; where makeup gift sets for women are tree-mendously popular. Whereas the classic eyeshadow palette is more for those from Arizona, D.C., Idaho, Maine, Minnesota, Oklahoma, and South Dakota. 
The tried and true bath set gift (basket, bundle, etc) is popular in Arkansas and Kentucky. But don't give a set to those in Delaware, Kansas, or Louisiana - they keep it super simple for Santa and are just looking for body lotion.
We don't want to forget to mention that South Dakota is also a fan of body lotion. BUT they would equally appreciate an eyeshadow palette and hair mask as well. (Dare we say greedy Grinches?) 
And hardly last on the list, but maybe the most luxurious and rejuvenating product featured is face serum. States clamoring for some serum for a fresh glow this holiday season include: Rhode Island, South Carolina, and Utah. 
Perhaps the creme of the crop for all of these beauty Christmas gift ideas is a beauty Advent Calendar. Many beauty brands like Yves Rocher feature Advent Calendars that offer an entire collection of gifts so you don't have to choose just one to give. This is a sure-fire way to score extra points with the beauty lover in your life.
Which states search the most for "beauty gift" during the holiday season? 
We started by a simple Google Trends search of "beauty gift" in the United States for the period: 11/27/20-12/24/20. 

We then pulled the US region-based data to understand which states have the highest comparative search volume. 
Which states search the most for "x" beauty products? 
We collected a list of 10 beauty products using Yves Rocher intel to uncover those most popular during the holiday season. 

Lipstick 

Eyeshadow Palette

Face Cream

Face serum

Perfume Gift Set

Makeup Gift Set

Body Lotion

Bath Set Gift

Hair mask

Nail Polish 

We then searched each "product" and collected the Google Trends region-based data to uncover in which state these products were the most popular. To understand in which state a product was most popular, the product that was searched more frequently in a state than other states was chosen as the most popular. 

This method does not indicate which product was searched for more than any other product, but rather which product was searched for more frequently in comparison to all other states in the nation. For example, search volume for "face cream" and "nail polish" was high across all states, but some states are more interested in less common items like a "bath set gift." So, when we look at the comparison of interest, we uncover that, for instance, Kentucky may want other items but they REALLY want a "bath set gift" more than any other state.  

In states with multiple products tied for "first," we included all popular products in the results. 
Data was collected from Google Trends on October 15, 2021.