The Tahitian Secret To Healthy Hair and Skin
Polynesian culture has long used monoï oil in daily beauty routines for good reason. Made from combining coconut oil and Tiare flower, monoï oil is rich in fatty acids that can add lustre and strength to both hair and skin. While we've seen argan oil, marula oil, and sweet almond oil celebrated as must-haves amongst skincare devotees, many have missed out on the restorative benefits of monoï oil—at least until now.
What is monoï oil and where does it come from?
Unique to Tahiti, monoï oil is a staple in the medicinal, religious, and beauty rituals of indigenous Polynesians. For centuries, Polynesian peoples have steeped Tiare flowers (Tahiti's national flower) in coconut oil to create this fragrant elixir.
The process of making monoï oil is carefully supervised by the "Institut du Monoi": coconuts must be grown on coral soil and harvested at maturity. Tiare flowers must be handpicked as buds and used within 24 hours to produce the luscious amber-coloured liquid.
Monoï oil for skin: The secret to your glow up
The careful process of creating monoï oil is only one of the factors that contribute to its many beneficial properties—such as giving skin a healthy glow. The coconut oil base is chock full of fatty acids, commonly known to have antimicrobial properties, making it ideal for those who suffer from issues associated with sensitive skin.
Monoï oil is also noncomedegenic—meaning it doesn't clog pores. Apply a rich layer to your body and your skin will get the hydration it craves, while still being able to breathe.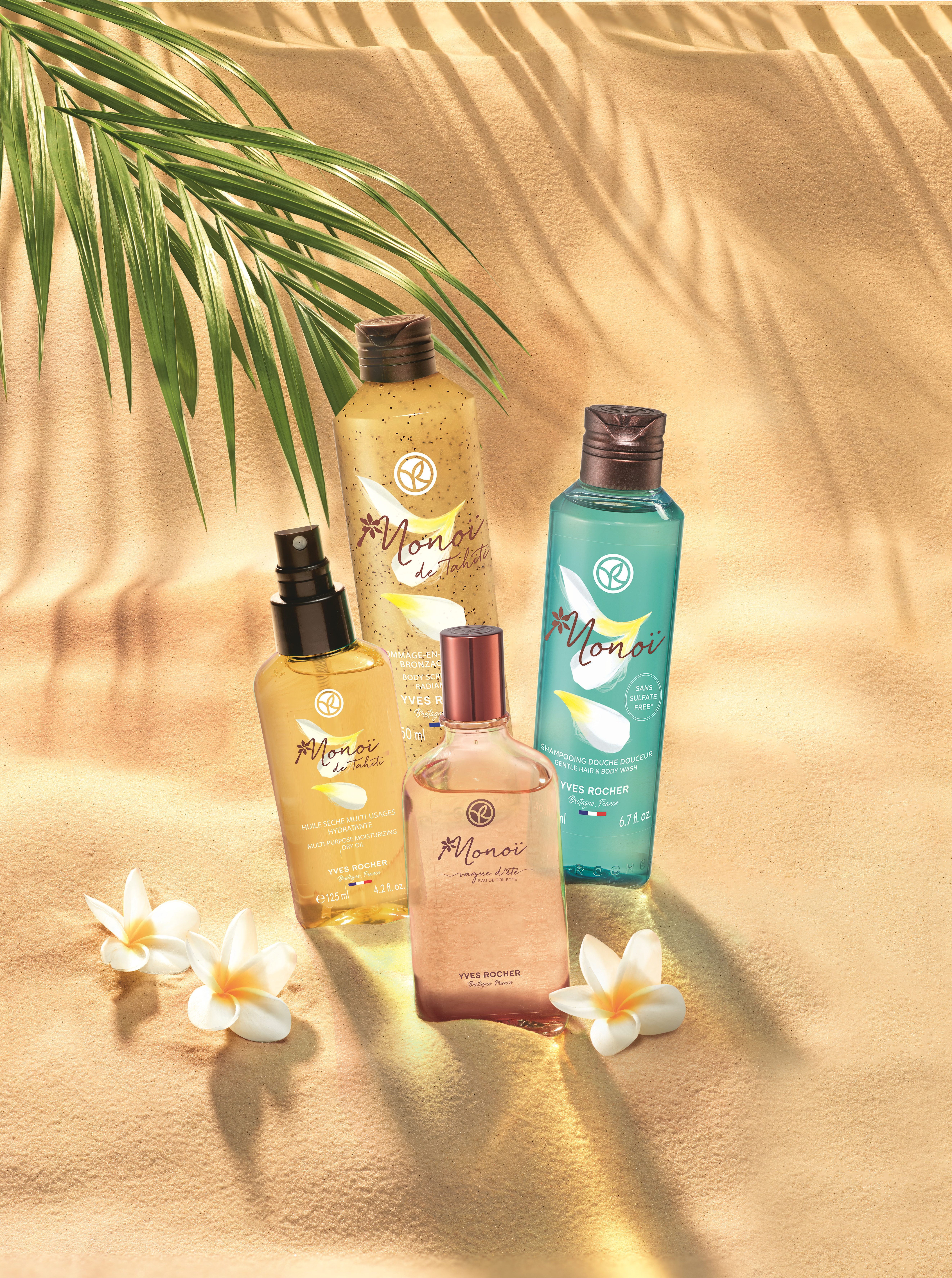 Monoï oil benefits for hair: How to boost your shine
When taking care of our hair, we often overlook scalp health, which is an integral factor in maintaining a healthy, shiny mane. Our scalps can often suffer from the same issues the rest of our skin battles—namely flaking, redness, and itchiness. All which can often be sourced back to dryness and inflammation.
The soothing nutrientsmonoï oil gives your skin are the same it provides your scalp and hair. Both noncomoedegenic and richly hydrating, monoï oil locks in moisture, helping the scalp rebalance itself.
If you're struggling with split ends, frizz, dull, or brittle hair, monoï oil can be especially useful. The coconut oil blended into monoï oil is commonly known to effectively penetrate the hair shaft, reducing protein loss and delivering major nourishment to damaged hair. Even those with undamaged hair can benefit from the hydrating properties of monoï oil.
A monoï oil-based skincare and haircare routine
If you're unsure of how to use monoï oil in your everyday self-care regimen, we've created amonoï oil-centered routine that's ready-to-go. From pre-shower to post-shower, take your pick of products that use the nourishing power of monoï oil to protect and hydrate your skin at every stage of your routine.
Gently clean with a natural, sulfate-free body wash
When it comes to choosing a body wash, remember that your skin is the largest organ in your body. If there's a place to go natural in your skincare routine—this is it.
Free of harsh sulfates, the Gentle Hair & Body Wash is made of 96% natural origin ingredients, to better protect your skin while cleaning it. Since it's sulfate-free, this formula lathers less than a conventional body wash, but still manages to remove the day's dirt.
Instead of stepping out of the shower with tight, dry skin, this formula respects your skin and hair's natural balance. Work it through your strands and you'll find your hair is easier to detangle.
Take your tan to the next level with an exfoliating monoï oil scrub
As any avid sun-worshiper knows, exfoliation is the key to an even, brilliant glow. To help your skin realize its full potential, take a shower with Body Scrub-In-Oil Radiant Tan.
Apply it to wet skin and you'll feel the coconut shell exfoliating scrub gently lift off dead cells, dirt and debris.
Once you've been thoroughly cleansed, this formula will melt down into a hydrating lotion, leaving your skin soft, clean and moisturized.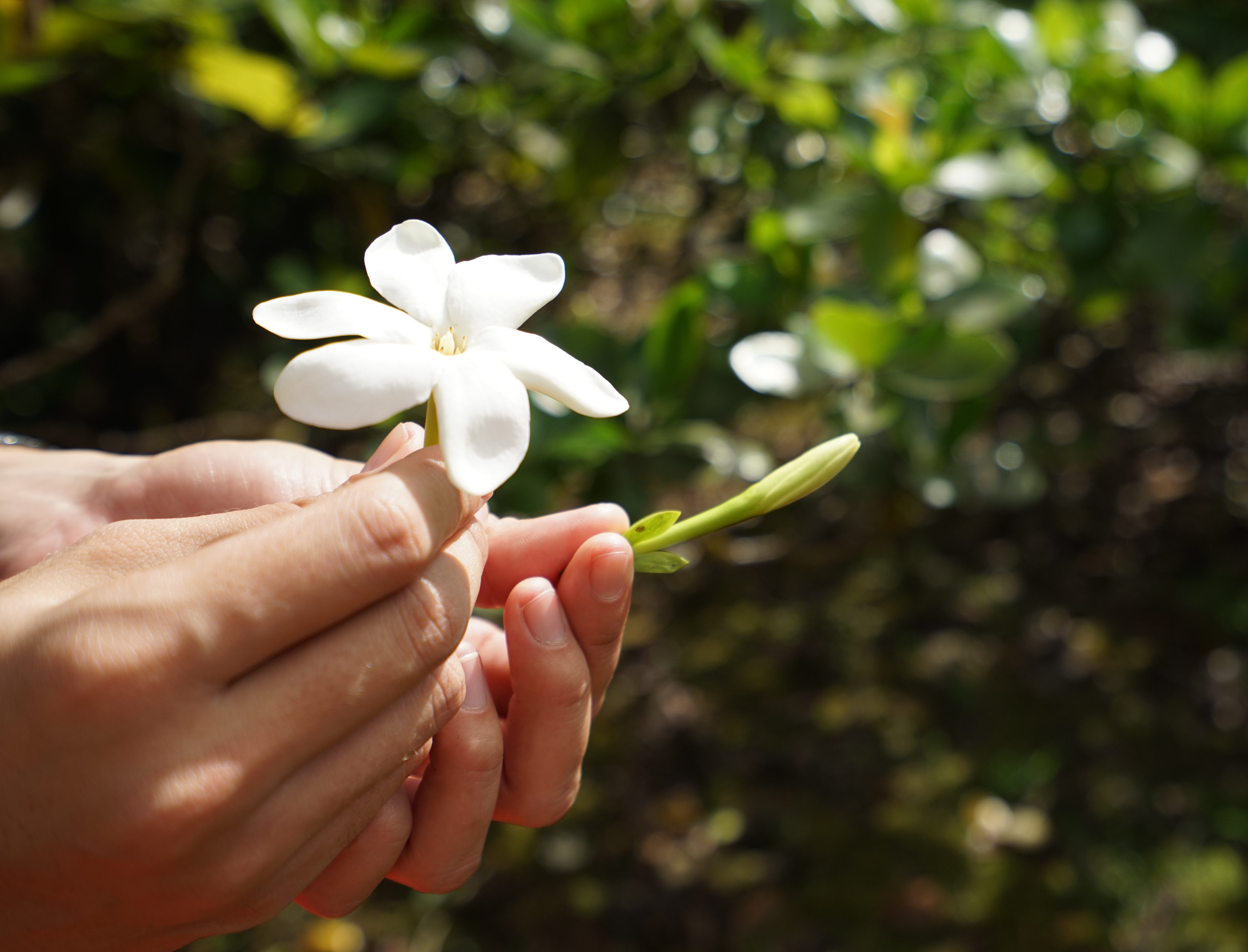 Hydrate and rejuvenate with traditional monoï oil
If you're looking to reap all the rewards monoï oil can offer your skin, get glowing with the Traditional Nourishing Oil. This rich formula packs a whopping 97.5% monoï oil, and a range of application possibilities.
Smooth it onto your body as soon as you step out of the shower to lock in moisture and leave a sun-filled monoï oil scent on your skin. For hair, work it through the ends and lengths after a wash, or use it as a mask by slathering it on 20 minutes before shampooing.
For a quick burst of hydration, spritz on theMulti-Purpose Moisturizing Dry Oil. This non-greasy formula moisturizes skin and adds even more glow to a natural tan. Spray and rub it into skin for a dewy look, or work it into hair for added shine, strength, and our signature sun-filled monoï oil scent.
Dial up the volume with monoï oil sea salt spray
Capture that tousled, beach day look withBeach Effect Hair Spray. This salty hair spray adds texture, giving hair body and a soft, summer scent.
For maximum volume, spray evenly onto dry hair, tie a tight bun, leave up for 5 minutes, then let your hair down and shake out perfectly beachy waves.
Smell like summer all year long
Evoke the memory of beachy days and warm nights withVague D'Éte Eau de Toilette. This light scent is made of 94% natural origin ingredients and is dermatologically tested. Spritz onto your body or hair throughout the day when you need the boost of a fresh, sunny scent.
Monoï oil: The Tahitian beauty secret for supple skin and luscious hair
No matter what your hair or skin type is, the nourishing benefits of monoï oil can add luster to your locks and hydration to your body. Add this Tahitian beauty staple into your skincare and haircare routine for a little extra summertime glow.
You'll look like you just got back from a sunny destination all year round.