Double Cleansing in Half the Time
Not all methods of washing one's face are equal. There's the face washing you do when you're racing against the clock and then there's the face cleansing (perhaps even double cleansing) you do when you can really pay attention to what your skin is trying to tell you.
After all, washing your face regularly has never been more important. Since many of us are noticing changes in our skin like breakouts and clogged pores, all courtesy of maskne (acne caused by wearing a face mask) regularly cleansing your skin is a practical way to prevent skin issues.
In this guide, we'll show you how to use Yves Rocher's new facial cleansers to combine the benefits of double cleansing, without increasing the steps in your skincare routine.
Underneath the surface, your skin produces sebum, a type of oil that's released onto the surface of your skin through follicles. This oil creates a protective barrier that keeps your skin safe from harmful elements in the environment. 
When dirt, dead skin cells, and other impurities build up on the surface of your skin, your follicles get clogged, trapping sebum and other impurities beneath the surface. This can lead to acne and other types of skin congestion.
If you deal with dryness, redness, and irritation, cleansing can help manage the pH levels of your skin. By removing impurities both morning and night, your skin will be prepped for the hydrating and moisturizing steps in your skincare routine.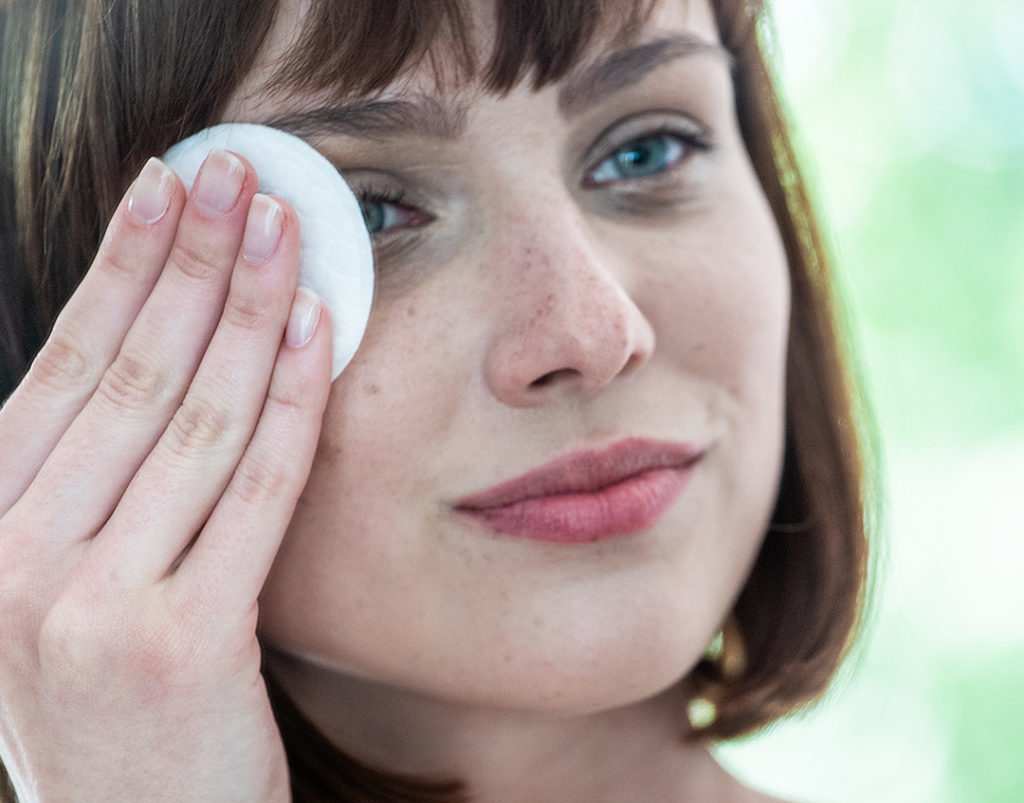 Popular in Japan and South Korea, and now Europe and North America, double cleansing is a process that uses two different types of cleansers, one after the other. 
Most commonly, the first step uses an oil-based cleanser to remove surface-level impurities, followed by a gentle sulfate-free cleanser. The goal of double cleansing is to get rid of all residue before applying any toners, micellar waters, serums, or moisturizers.
For all the benefits of double cleansing in under two minutes, follow these steps.
Step 1: Start with clean hands
A clean face begins with clean hands. If you don't wash your hands, all the bacteria and dirt from your fingers will end up on your face.
To avoid this, give your digits a good 30-second scrub with gentle hand soap and warm water.  
Step 2: Select your cleanser
Depending on your skin type (which may change throughout the year) choose the cleanser that meets your skin where it is today.
The cleanser for all skin types
Whether you have dry skin or oily skin, anyone can reach for the 3 In 1 Makeup Removing Marine Jelly. This unique formula combines all the benefits of an oil-based makeup remover with the freshness of a cleansing gel.
Fortified with detoxifying micro-algae farmed in an eco-responsible manner from Brittany, France, this formula is vegan and contains 99% natural ingredients. At first, it gently removes makeup and other impurities. As surface debris lifts away, micro-droplets will turn into a light foam, gently cleansing and balancing your skin, leaving it feeling oxygenated.
Do you have oily skin?
If you find that your skin produces excess oil throughout the day, the Pure Menthe Purifying Cleansing Geloffers a deep clean. Made with organic peppermint, this formula helps purify and mattify—ideal for oily skin.
Do you have sensitive skin?
For sensitive skin that's reactive to most products, try the soothing effects of the Pure Chamomile 2 In 1 Soothing Makeup Removing & Toning Milk. This gentle cleanser has organic wild chamomile, which helps protect and calm skin as dirt is gently taken away.
For more skin types and product choices, discover all the new cleansers by Yves Rocher.
Step 3: Get the water temperature just right
Now that you've selected your cleanser of choice, make sure that your water temperature is lukewarm. Hot water can dehydrate skin and cold water may not loosen excess sebum. Before you apply your cleanser, splash lukewarm water on your face to prep your skin for cleansing.
Facial cleansing tools
While using your fingers is perfectly acceptable, if you happen to use a facial cleansing device like a brush, or a konjac sponge) now is the time to pull it out. Just make sure you regularly clean your device so that it doesn't hold harmful bacteria.
Step 4: Lather for 60 seconds
Now that your face is moist, turn the tap off, squeeze a dime-sized amount of cleanser onto your fingers, and work the formula into your skin.
To really see the effects of proper cleansing, you need to give your product some time to work (60 seconds, to be specific.)
Instead of frantically scrubbing your skin for 30 seconds, take the full minute to give yourself a leisurely, therapeutic facial massage. Work in slow, small circles and take the cleanser across your forehead, nose, cheeks and chin.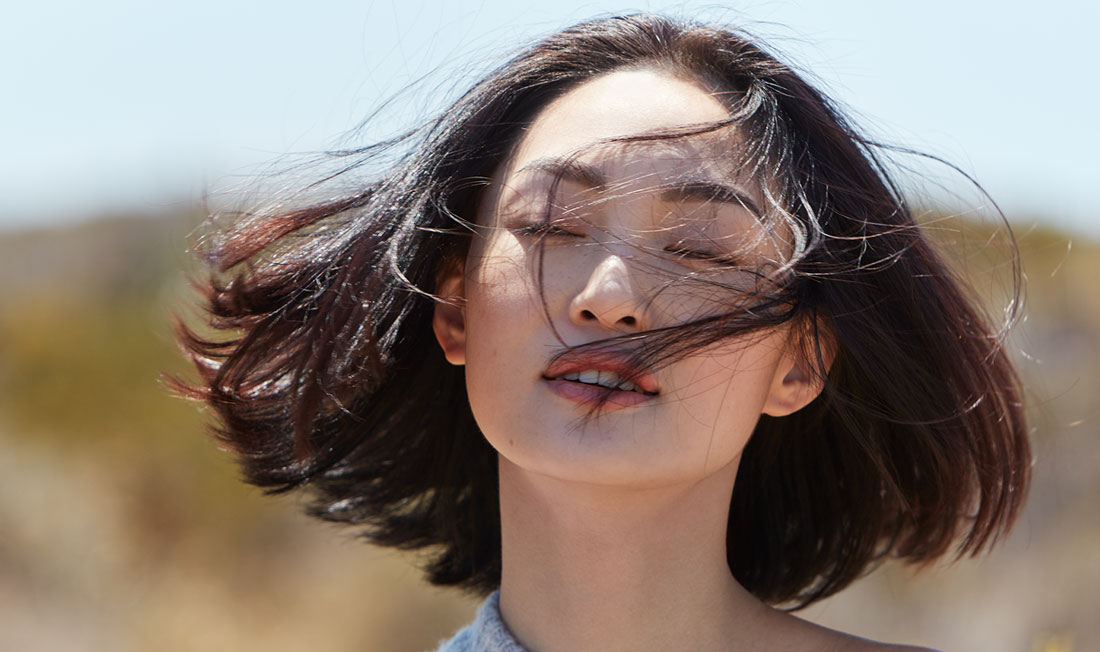 Step 5: Don't forget your neck
This may come as a surprise, but your face starts at your hairline and ends at your collarbone. Since the neck is one of the first places that shows signs of aging, it's important to show this area as much love and attention as your face.
Step 6: Rinse off thoroughly
Once you've lathered your face for 60-seconds, turn your tap back on and wash away all traces of cleanser. It's important to make sure your skin is thoroughly rinsed off to avoid skin congestion.
Step 7: Dry off with a soft, clean towel
Once you've carefully cleansed your skin, if you used a dirty towel to dry off, you'd be back at square one.
Each time you wash your face, make sure you have a soft, clean towel on hand. As the skin on your face is quite delicate, it's important to use a soft towel. It's equally important to pat yourself dry (no rubbing) as this is the most gentle way to remove moisture.
Now that your skin is thoroughly cleansed, you're ready to hydrate with the next steps in your skincare routine. To stay consistent, follow up with the rest of the products in your Yves Rocher regimen of choice.  Whether you use the Pure Algue, Pure Menthe or Pure Camomile, within a minute of cleansing, use the toner or moisturizer that works best for your skin type.
The Full Double Cleanse Routine
On the days when you have a little extra time to spare, it's easy to do a full double cleansing routine before bed. For a thorough, yet gentle, cleansing, give your skin a swipe of micellar water before you use cleanser to wash your face.
What's micellar water?
Micellar water is a mixture of purified water, hydrating glycerin and mild surfectants that contain molecules (micelles) which pull dirt and oil away from your skin. This mild and gentle formula is ideal for removing makeup without stripping your skin and causing irritation.
Cleanse with micellar water
To get started, take a reusable cotton pad or cleansing glove and soak it with your micellar water of choice.
For truly a gentle 2 in 1 formula, choose from the Pure Algue, Pure Menthe,or Pure Camomile.Each of these micellar waters gently remove impurities while also cleansing and protecting your skin's natural pH levels.
Starting from the center of your face, gently move the cotton pad in circular motions until you reach the outside of your face. If you're wearing mascara, let the cotton pad sit on the delicate area around your eyes for a few seconds. When the micellar water has had a chance to break down your makeup, move from the inside to the outside of your eyes.
Once the micellar water has fully saturated your skin, follow up with your regular face washing routine, as outlined previously.
Wash your face twice a day and your skin will thank you!
Whether you reach for the 3 In 1 Makeup Removing Marine Jelly, packed with nutrients derived from seaweed, the 3 In 1 Cleanser Scrub & Anti-Blackhead Face Wash, rich with soothing peppermint, or the 2 In 1 Soothing Makeup Removing & Toning Milk filled with organic camomile, it's imperative that you wash your face both morning and night.
The reasons why you should face wash before bed are clear—what may be confusing is why you need to wash your face in the morning. After all, how much dirt can have accumulated overnight?
In reality, your skin cells are working 24/7. That means they may be producing excess sebum. By washing your face in the morning, you remove all of the impurities that may have accumulated overnight from your pillow and sheets, so your skin can better absorb your daytime products.
Just remember—when you take care of your skin, it takes care of you.
Discover all our new facial cleansers and learn more about why facial cleanser is the most important part of your skincare routine.