Discover Filler Vegetal, products enriched with Ice Plant and Hyaluronic Acid for naturally plumped skin and smoothed wrinkles.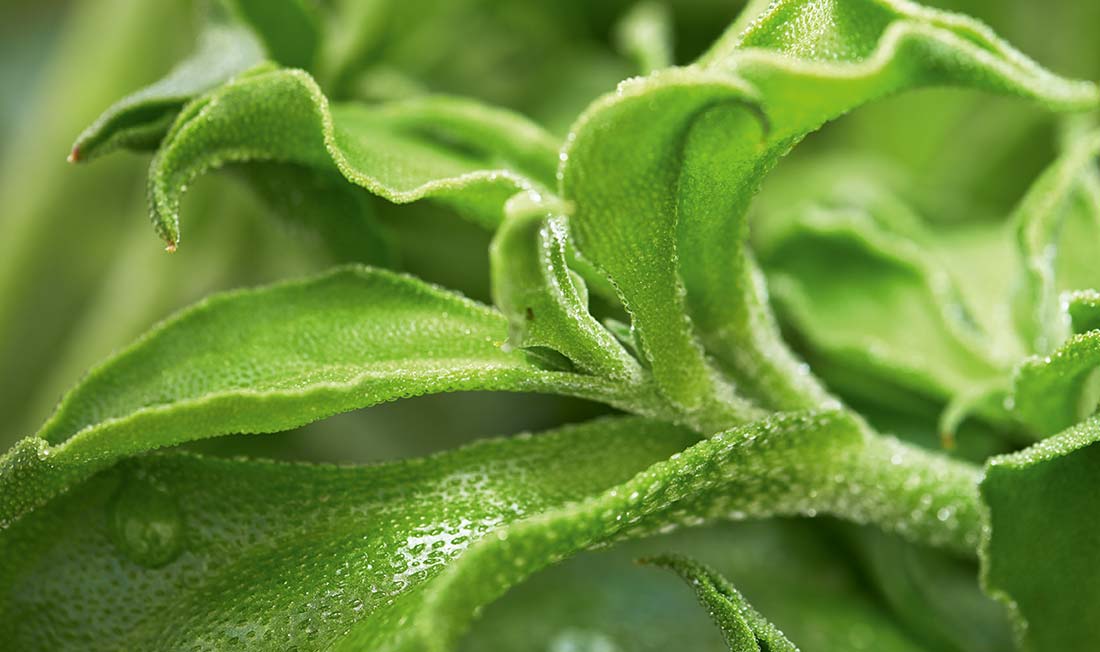 Ice Plant, an Anti-Wrinkle Extract
Thanks to their unique knowledge of the plant world, our Botanical Beauty Researchers have selected the Ice Plant for its incredible ability to stay fresh, bouncy and full of life even in the most extreme conditions. Freshly extracted, Ice Plant fills in wrinkles*.
After 12 years of research and 3 patents, Yves Rocher Scientists have transposed the exceptional anti-aging powers of this plant into the new Filler Vegetal line.
Cultivated using sustainable agricultural practices in La Gacilly, the Ice Plant is harvested once a year at the height of its freshness and concentration in active molecules.
*In vitro tests
Skin is Instantly Plumped Thanks to Hyaluronic Acid
This molecule is renowned worldwide for its marvelous moisturizing benefits that help to reduce the appearance of fine lines and wrinkles. This is mainly due to its ability to retain up to 1000 times its weight in water at the surface of skin to provide an instant plumping effect.
After a lengthy research and development phase, our researchers selected a wheat and corn glucose biofermentationprocess. This transformation process is traditional, positive, natural, highly effective and enhances the ingredients.
The result: 100% natural hyaluronic acid obtained from biofermentation with formidable effectiveness used to enrich all the Filler Vegetal formulas.
Our Products
The star product in the line, the Overconcentrated Plumping Serum
The plumping serum is the 1st serum to be overconcentrated in freshly-extracted Ice Plant and naturally-sourced Hyaluronic Acid for a concentrate of botanical anti-wrinkle effectiveness.
-29% of appearance of wrinkles instantly.
After 6 weeks, wrinkles appear intensely reduced.
The plumping serum is 4 times more concentrated in Ice Plant than the rest of the line.
*Clinical study conducted on 12 subjects. Reduction in the depth of the appearance of wrinkles on average, immediate effect, 100% of responding subjects.
How to use:
On clean and toned skin, apply a pea-sized amount of the serum on face and neck by gently pressing with the palms of your hand.
Its ultra-fresh gel texture will instantly melt onto skin.
The Rest of the Filler Vegetal Line
Within the Filler Vegetal line, you'll also find the Anti-Wrinkle Plumping Day Cream with its creamy texture and the Anti-Wrinkle Plumping Night Cream with its velvety texture, to plump up and smooth your skin day and night.
For an even deeper skincare routine, discover the Anti-Wrinkle Face, Neck and Décolleté care and apply it day and night to smooth out any pronounced wrinkles.
To fight the effects of aging around the eyes, discover the Anti-Wrinkling Plumping Eye Care, which moisturizes and plumps the eye area to smooth out fine lines and crow's feet wrinkles. Apply it morning and night!
Our Commitments
When it comes to our formulas, we ensure they are free from silicon and mineral oils, vegan* and made of between 97% and 98% naturally-sourced ingredients!
Furthermore, our packaging is eco-designed and environmentally conscious. It is made in France and does not contain any plastic film. Our cardboard is FSC-certified and sourced from sustainably managed forests. The face cream glass jars are recyclable. The packaging for our 50 ml jars is greener and lighter, it is made of 41% less cardboard.
*Formulated without ingredients derived from animals